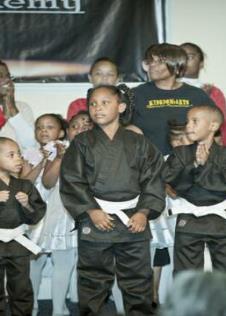 REGISTRATION

Non-refundable and includes a Kingdom Arts T-shirt or Bag. Registration fees are to accompany a completed registration form and first month class fee. Classes without sufficient enrollment will be cancelled and students will have the option to choose another class.

AGES:

Classes are offered for students ages  3 and up. All children must be fully toilet trained to be enrolled in any of our programs.

General Policies and Procedures


ATTENDANCE:

Regular attendance is essential for a dancer to show progress. It is also much appreciated by the staff and the rest of the class if all dancers arrive on time.  Please refer to 2017-2018 calendar dates that the studio will be closed during the season.

MISSED CLASSES

If a student misses a class, a phone call would be appreciated. A students' absence from class does not reduce the cost of operating the class for that day nor for operating the studio in general. Therefore, credit cannot be given for missed classes. Monthly class fees are required regardless if a student misses classes. This program isn't a month-to-month program but a seasonal program that operates from October through June. Class fees are due by the 1st Saturday of each month in order for a student to participate in the class.

ATTIRE AND APPEARANCE

The proper dress codes must be followed to ensure the safety of the students, as well as to permit the teacher an unobstructed view of the dancer to ensure the techniques are being learned. Please adhere to the following dance or fitness wear guidelines:

Fun and Learning Ballet (ages 3-6):

Girls - Black Leotard, suntan tights, & pink leather ballet slippers (No Tutus/Skirts)

Boys - Black T-shirt, black pants & black leather slippers

Fun and Learning Tap (ages 3-6):

Girls - Leotard, tights & tap shoes / Boys – T-shirt, loose pants & tap shoes

Hip Hop classes (3yrs +):

Gentlemen - T-shirt, loose pants & sneakers / Ladies - Add Leotard

Karate classes (ages 3yrs +):

Black Gi (Karate Uniform - can be purchase from Karate instructor)

Ballet 1 & Ballet Technique classes (ages 7yrs+):

Leotard, tights, T-shirt & slippers or

Afro Modern Class (ages 8 yrs +):

Ladies - Leotard, footless tights, T-shirt, sarong or hip scarf

Ballet Barre Burn (ages 15yrs +):

Leotard/t-shirt or workout top, tights or workout pants, socks or bare feet

Boot camp (ages 15yrs+):

Workout gear, socks and comfortable supportive sneakers

***NO BARRETTES OR JEWELRY ARE TO BE WORN IN CLASS. ****

****HOME PRACTICE IS NECESSARY AND REQUIRED FOR ALL STUDENTS

NO PARENTS OR VISITORS ALLOWED IN CLASS.****

GARMENTS:

Garments will range from $50 to $75 per student, per class. The payment schedule is listed in the 2017-2018 calendar. Prices are subject to change and all students will be notified in advance.

CONCERT:

There will be a concert held at the end of the dance season, Date TBA, for all students. This is not a requirement. If you choose to be in the concert, there is a requirement to sell a minimum of 10 concert tickets per family. Each student is to inform their instructor(s) no later than January 31st, if they will participate in the end of the season concert.





CANCELLATION OF CLASS

Class cancellations due to illness or inclement weather will be recorded on an outgoing message placed on the studio phone (610-970-3938) or you will be contacted by phone, text or e-mail.